For the 16th year, I Hear Music in the Air will gather in Cincinnati to celebrate with thousands from across the country for an exciting weekend to honor, educate, and enjoy music and ministry from leaders and top artists in the Gospel industry.
Our praise-filled weekend will include something for everyone. We will culminate the weekend with the Legend's Ball, as we celebrate community leaders and national artists in gospel music.
IHM 2017 May 19th-21st, 2017
"An Evening With Kirk Franklin" IHM Concert on 5-19-17 will be at the Duke Energy and Convention Center in Cincinnati, OH
Saturday's IHM Conference on 5-20-17 will be at The Ramada inn on Chester road.
Sunday's IHM Legends Ball on 5-21-17 will be at the Sharonville Convention Center.
FRIDAY, MAY 19, 2017
An Evening With Kirk Franklin: I Hear Music in the Air Concert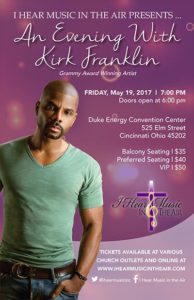 Time: 7:00pm EST
(Doors open at 6:00pm)
Location:
Duke Energy and Convention Center
525 Elm St, Cincinnati, OH 45202
Cost
Balcony Seating $35.00
Preferred Seating $40.00
VIP $50.00
VIP Experience $75.00 (Meet and take a picture with Kirk Franklin)
Event Parking
---
SUNDAY, MAY 21, 2017
THE LEGENDS BALL
I HEAR MUSIC INC. PRESENTS BLOOD SHED, SHIRLEY MURDOCK, COMEDIAN NICOLE CARTER AND UP CLOSE AND PERSONAL WITH ANITA WILSON (EONE NATIONAL GOSPEL ARTIST). KEYNOTE SPEAKER BISHOP VICTOR COUZENS INSPIRATIONAL BAPTIST CHURCH. HONOREES DRESS FOR THE SUCCESS, THE COLLECTIVE EMPOWEREMENT GROUP, EASTERN PERSONELL. I HEAR MUSIC HONORS AURELIA SIMMONS, SEAN RUGLESS AND LIFETIME ACHIEVEMENT AWARD HERB R.BROWN.
Time: 5:30pm EST (doors open at 5pm)
(Doors open at 6:00pm)
Location: Sharonville Convention Center (Main ballroom)
11355 Chester Road, Cincinnati, OH 45249

BISHOP VICTOR COUZENS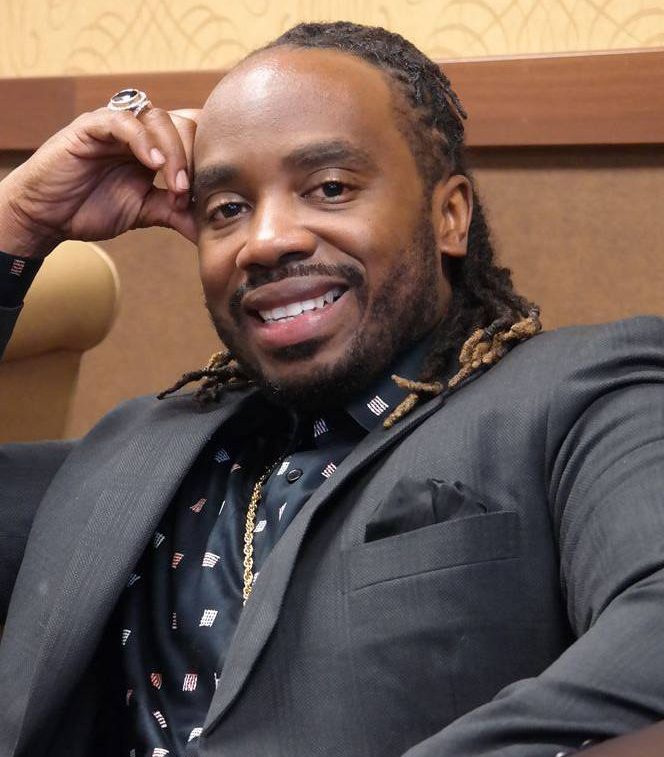 Listen to Audio Bio: